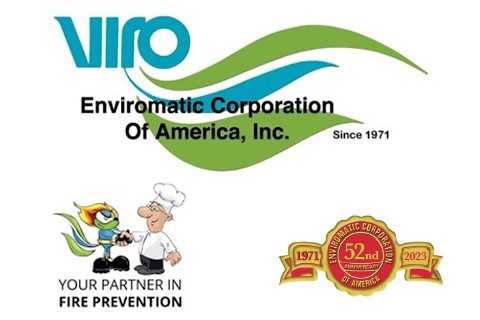 Enviromatic Corporation Of America, Inc.
Company Description
THE KITCHEN EXHAUST CLEANING
SPECIALIST!
Since 1971, Viro has set the quality standards for the kitchen exhaust cleaning industry. We are the industry's best value giving unmatched performance at reasonable rates. Viro does this many ways: Viro's exclusive picture verification program documents the entire systems after cleaning which is the model of the industry. Viro's professional setups and cleanings leaving your kitchen ready to go in the mornings. Viro performs an industry leading on time performance. (So you or your staff are not stuck wasting your valuable time waiting) Viro's own expert trained and certified crews (NO SUBCONTRACTORS!). Last but not least, Enviromatic's unmatched expert consultation with the industries most experienced staff. Viro continues to lead by example continuously raising the standards for the entire KEC industry.
Additionally, we manufacture and install the exclusive and patented UL listed Viroguard® rooftop containment system. Our Enviroleaktest® is now the recognized industry standard for leak-testing grease ducts. The Envirospection® nationwide grease exhaust inspection quality control program is unmatched in the country for protecting properties and bringing real fire safety for restaurants. Finally, we are IKECA certified, the only non-profit, 3rd party certifying body.
Please call to see for yourself our unmatched experience & service. We simply do it right the first time and every time. "WE JUST DON'T SAY IT'S CLEAN, WE PROVE IT!"
Serving all of Kansas.
Categories
Equipment & Supplies

Grease Traps, Interceptors Or Extractors

Exhaust System Cleaning

Fire Prevention & Safety / Security Systems

Janitorial Supplies / Services

Grease Extracting Systems
To Top